Buy a Fox Creek Farm CSA share. Exceptional produce
Or download a PDF membership form:
In exchange for your purchase of a Fox Creek Farm CSA share, we bring you a 21-week season of healthy, organically grown produce. Your farmers select only the highest quality produce for your share: a farmer's choice select weekly harvest!
With your Fox Creek Farm CSA share, you commit to a season of healthy eating, while supporting a beautiful small family farm. Locally grown, freshly harvested exceptional produce.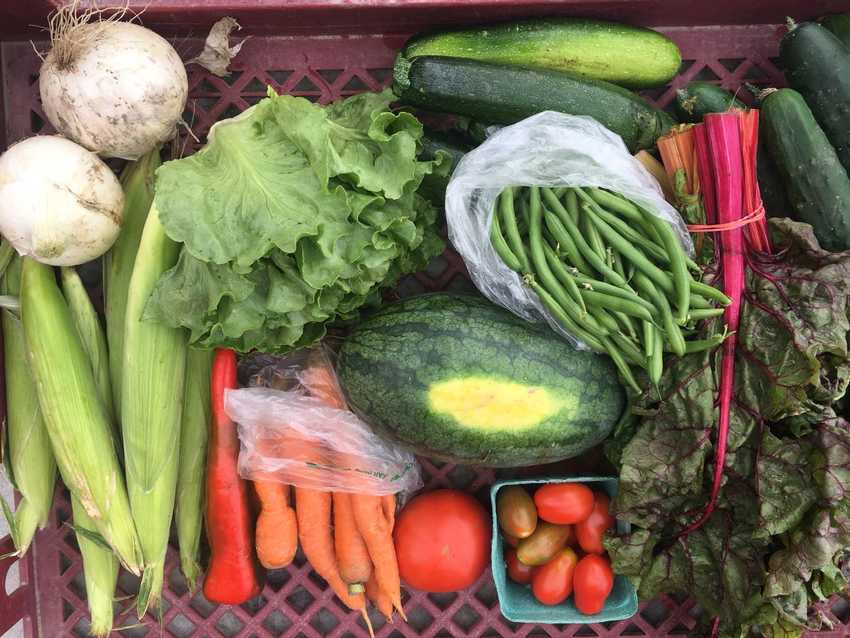 Large and Medium shares
Fox Creek Farm offers Large and Medium shares. Which share is best for you depends on your cooking and eating habits. Fox Creek Farm has a CSA share that fits your situation!
Buy a Fox Creek Farm CSA share online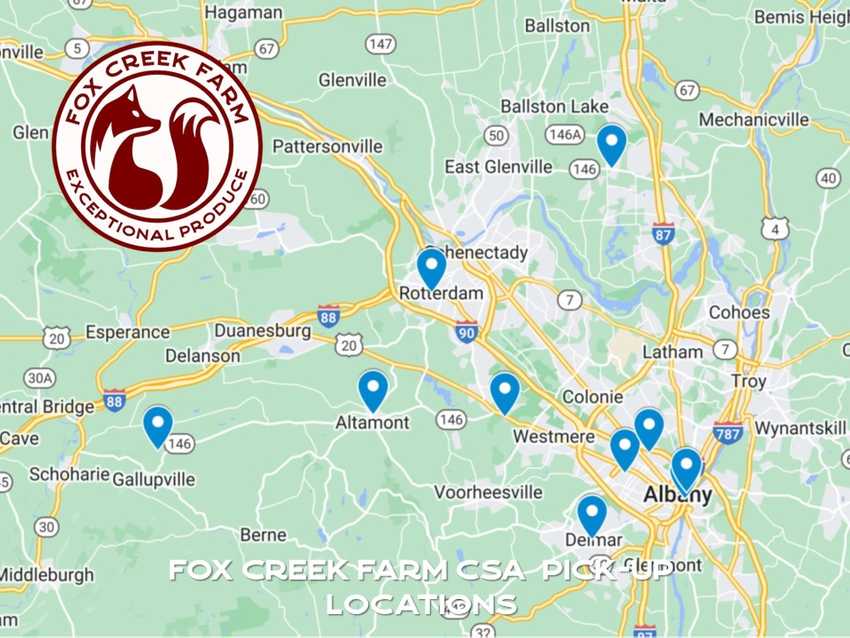 Pick up locations and times
We deliver our freshly harvested produce through pick-up locations throughout the Capital District. You choose one location for the harvest season:
TUESDAY (4:00 - 6:00 PM):
Albany: Lenox Avenue, Guilderland: Foundry Road, and the following employee only locations (drop-offs before 3:00 PM) DEC Region 4, Rotterdam; DEC Main Office, Albany; SUNY Administrative, Albany.
WEDNESDAY (4:00 - 6:00 PM):
Altamont: Altamont Reformed Church; Schenectady - Niskayuna: Grand Boulevard; Clifton Park: Christ Community Reformed Church
THURSDAY (4:00 - 6:00 PM):
Albany: Honest Weight Food Co-op; Delmar: Delmar Reformed Church; Gallupville: Fox Creek Farm
Buy a Fox Creek Farm CSA share online
We always welcome suggestions for new pick-up sites in the Capital District!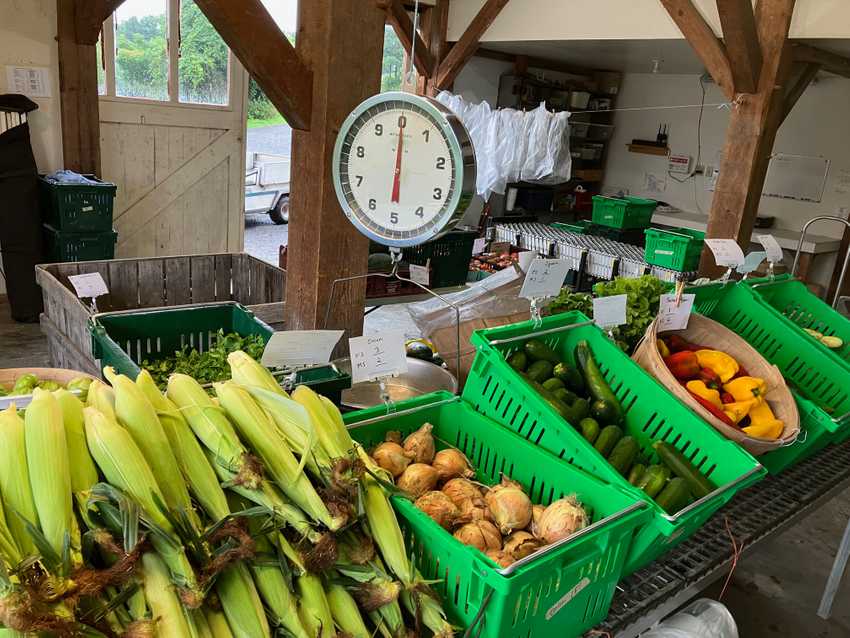 Fox Creek Farm CSA share pricing
We offer Full and Medium shares. Full shares are intended for families of 4, or 2 vegetarians. Our medium share is smaller, and better suited for smaller households. The medium share does not always have the same items as the full share.
Our 2024 CSA season is 21 weeks.
The medium shares start at $ 548; Full shares start at $ 754.
This year we are introducing a sliding scale for our CSA shares, to help maintain the economic viability of the farm. Costs for labor, supplies, fuel and parts have increased substantially over the last few years. With the sliding scale we keep our shares affordable for lower income CSA members, while we hope CSA members with higher incomes choose to support the farm and all its benefits at a higher CSA share price level.
Through our Healthy Food for All program, we may be able to offer reduced price CSA shares for families with financial needs. Please contact the farm for more information.
Buy a Fox Creek Farm CSA share online